Now that the market and economy is open once more, there is a new concern for making customers feel safe. While working within CDC guidelines and encouraging people to wear face masks is important, there is still more to be done. One way to do that is through business cleaning services.
Restaurants and bars being the last places to be opening up have the most ground to cover in order to get on their feet again. They have to work the hardest now to help make their customers feel safe and keep them secure.
How Working With Business Cleaning Services Helps Restaurants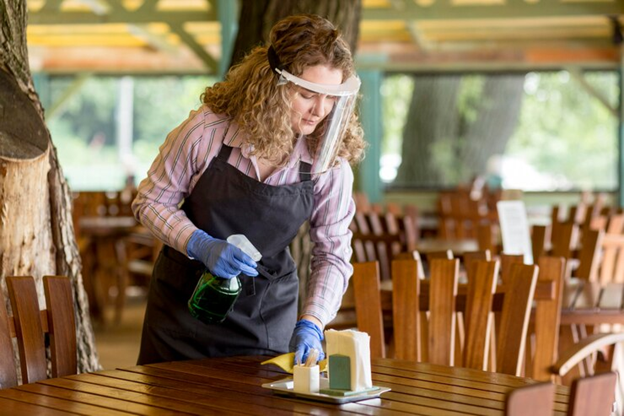 1. It has been proven that people respond and feel more secure in a clean place. Now that we are living during a pandemic, this is even more true. With new research and guidelines coming from the CDC the easiest thing restaurants can do is partner with a company that specializes in this.
2. These companies can help keep spaces clean and can come in as regularly as needed. This allows restaurants to make sure that the space is sterile and clean.
3. Moreover, cleaning and sanitation service providers like Jonco also help work with you to devise a plan that works best with what each business needs. They will guide you based on location, size, and amount of people.
In turn, clients and customers will see this and feel more comfortable. This increases foot traffic and ultimately, revenue.
Joncowest, a leader in this field, is a company that has helped many companies get back on their feet. Business cleaning services is exactly what it sounds like; a deep cleaning service for businesses that exist on small and large scales. With new regulations and the like, companies like this are even more necessary.
Benefits of Hiring Business Cleaning Services for Restaurants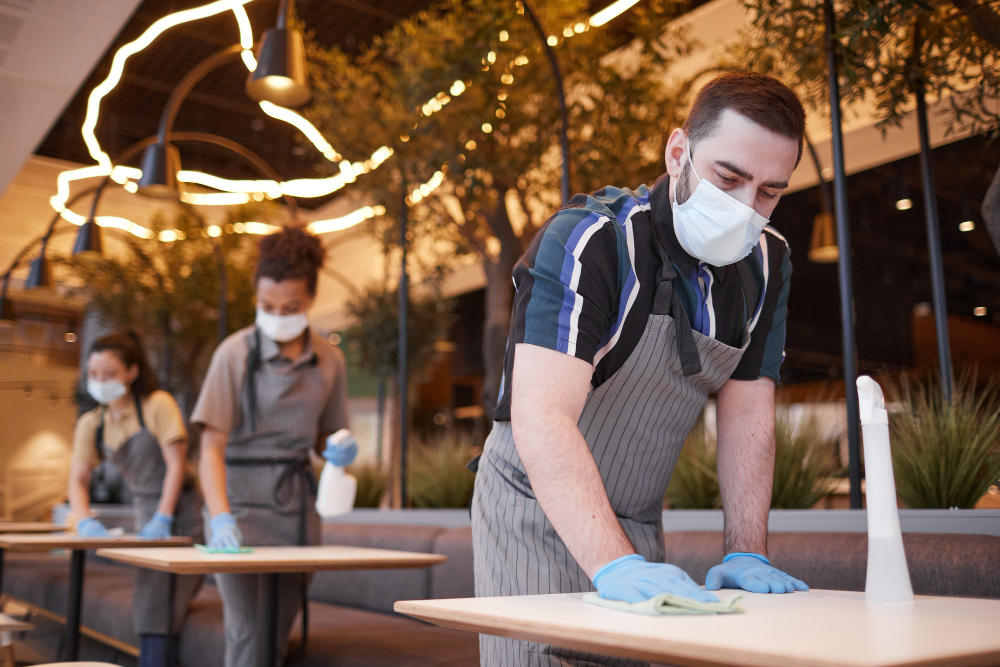 Hiring business cleaning services for restaurants can bring various benefits that help the restaurant's success. Here are a few significant advantages:
Improved Customer Experience: A clean and well-maintained restaurant gives a positive first impression on guests. When the dining area, restrooms, and kitchen are clean, customer experience improves, resulting in better customer satisfaction. Happy customers are likely to return and recommend the restaurant to others, increasing the client base and revenue.
Better health and cleanliness: To prevent food from getting dirty and spreading diseases, a restaurant must be clean and hygienic. Professional cleaning services guarantee that all restaurant areas are clean. When a restaurant keeps a clean environment and has no problems, it avoids problems and criticism that might negatively impact its image and lead it to lose revenue.
Improved effectiveness and productivity: Restaurant employees may focus on crucial activities like preparing and serving food without worrying about cleaning. When a company employs someone to do the cleaning, it helps the employees to focus on their main tasks, allowing them to work better and deliver better service. Doing things efficiently frequently results in more clients leaving and, as a result, making more money.
Positive online Ratings and Reviews: In today's digital age, internet reviews and ratings have a big impact on a restaurant's reputation and profitability. A clean and well-maintained establishment will most likely receive positive feedback, enticing potential consumers to visit. Positive online reviews can improve foot traffic and revenue.
Faster Event Clean-Up:If the restaurant has parties or events, a cleaning service can quickly and thoroughly clean up afterwards. This helps the restaurant start working again sooner and make the most money possible.
In Conclusion, cleaning services for businesses not only contribute to a healthier and safer environment, but also to enhanced customer happiness, increased efficiency, cost savings, regulatory compliance, and positive internet evaluations. All of these elements, when considered together, can have a substantial impact on a restaurant's profitability and long-term performance. Call us today to make your business a sanitized and safe place for your customers.
3 Call us today to make your business a sanitized and safe place for your customers.